Our giving story to date.



Hello, I'm Moira Hughes, co-founder of Groseeds.
This is a quick note about us...and you. And it's actually, as you'll discover in just a moment, about happiness.
But first, here's the 'big picture' about Groseeds: Groseeds is a small, young company with a mission to impact lives by inspiring people to engage with the natural world through the regular involvement of gardening.
More on what that means in a moment. But first, let's get back to happiness.
Happiness is something we all strive for.
I remember thinking about it when I was a market gardener and then home gardener before we founded Groseeds.
I often thought of happiness as something that would just happen to me, something that was hiding just behind the university degree, new job, nice house or new car.
I often recall saying - when I have that new car, holiday or new kitchen then I will be truly happy.
And then when I finally achieved the goal, I'd find the happiness it brought was short lived and the disappointment and anti-climax just made me move on to the next 'goal' in the hope that the new goal would be 'the one' to bring contentment and happiness to my life!
It was the chase for the 'shiny new object' that so many people are on today as you probably know.
Of course money can and does buy happiness, however according to research, apparently not that much!
In fact extensive research into 'what actually makes us happy 'and from personal experience suggests that happiness and well-being has less to do with monetary wealth or the 'stuff' we chose to surround ourselves with and more to do with how we spend our time, live our lives and the people we choose to have around us.
This perhaps explains why a person who we perceive to be poor with very little monetary wealth and 'stuff' can be the happiest and most contented person in the whole world.
The simple things in life really ARE important!
There is now a literal mountain of research demonstrating that having a healthy lifestyle, giving back, sharing and helping others, smiling more, managing stress levels, spending more time amongst nature, building up self-esteem, doing some exercise, being thankful for what we already have and surrounding ourselves with supportive and positive people are just a few of the simple ways we can all achieve happiness and well-being in our busy modern lives.
For some people, gardening might serve as a tranquil retreat or a private escape from the stresses and demands of modern life. For others it provides safe, healthy, fresh flavoursome food for the family. Still others may participate in gardening for the physical workout it provides or perhaps it might be an outlet for creative and artistic expression or even a place to meet and share tips with like-minded people.
For me, an hour in the garden rewards me with all of the above, exercise, healthy food, a place where I can slow down, be creative, learn and share with others.
I guess the point is that whatever the reason for gardening, we can all benefit from it. And as you probably know, it is widely recognised now that as little as 30 minutes of regular contact with plants and the natural environment can significantly improve our physical health, mental well-being and our happiness.
From experience there is no better therapy than being close to nature. When we put our hands in the soil, grow flowers and food and create something that is truly beautiful we engage with the natural world, building up our self-esteem and managing our stress levels though the magic nature freely gives back.
Groseeds is a small, young company with a mission to impact lives by inspiring people to engage with the natural world through the regular involvement of gardening.
We want to motivate people of all ages to pick up a spade or trowel, build a connection with nature and grow fresh home-grown food and to witness for themselves the many benefits including health, well-being and happiness that gardening brings to their lives. And in doing so the people who we inspire to engage with the natural world change the lives of people less fortunate.
Connect with us for daily inspiration :)
I believe every business has the power to impact and change lives for the better.
We believe Groseeds has a social responsibly to not only help people live a happier, healthier and more fulfilled life, but to also impact the lives of less fortunate people in our world.
We achieve this by simply integrating 'giving back' into the core of our business through our everyday business activities. This has been made possible through our lifetime partnership with the not for profit Global Giving Initiative Buy1GIVE1.
Buy1GIVE1 allows us to do many things so simply now.
For example, every time a seed packet is bought someone in Africa receives access to life-saving water.
And think about that in a wider context too. Imagine if every time we bought something, something GREAT happened, automatically, with no additional cost, charge or donation request. Wouldn't that be a great world and a great way to give.
For every 955 packets of perennial flowers purchased, 3 people in Malawi get access to clean, safe water for life.
In our 'Let's Gro' e-bulletin we have a popular section called 'Together, we have made something GREAT happen.'
Here we share our latest giving stories with our community. We also like to involve our subscribers in choosing which new giving projects to include. We have had some great feedback, with subscribers telling us how much they look forward to reading this section in particular :)
Receive our latest updates & giving stories -

(The free e-bulletin also includes gardening articles, how to videos, new products, competitions, exclusive offers etc.)
Members can unsubscribe easily at any time :)
---
You may find this short video interesting, it is one of my favourites :) It is called 'A Smile for a Smile' and shows how Buy1GIVE1 and 'Business for Good' companies such as Groseeds is making a positive impact to the lives of people in need all over the world.
Groseeds is a young company. However our giving impact to date has already changed the lives of many people since we started in September 2015. Click on the map below, then hover over the orange icons to see the giving projects and giving impacts to date. Our giving story with the help of our customers is growing daily and I so look forward with excitement to the day when the Groseeds Giving Map is one large mass of orange :)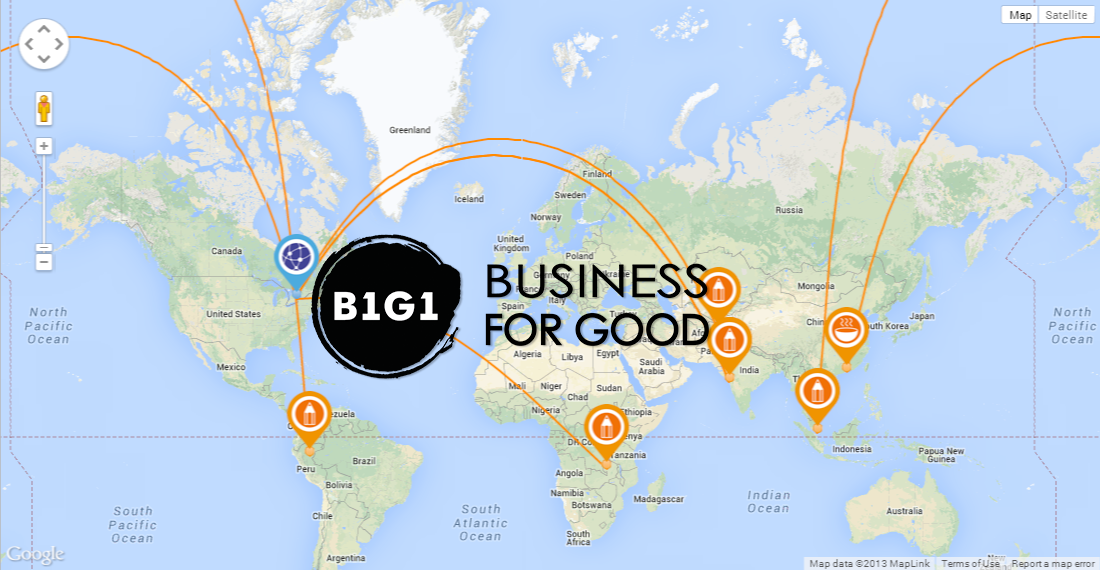 We will also in the near future be helping people closer to home here in the UK.
We plan to work with schools to encourage more school gardens. We strongly believe if children have access to plants and the natural environment when young and are given the opportunity to grow their own food they are more likely to eat healthier food such as vegetables, live a happier more fulfilled life and adopt healthier lifestyle habits when older.
And happiness IS what it's all about. We're so happy (and so grateful) that you're sharing all of this with us.
Contact Moira direct on - 07808 179667